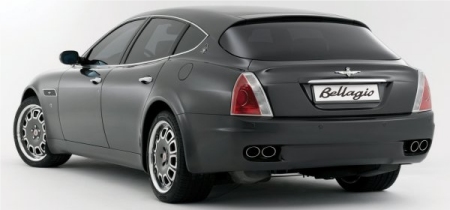 At the Essen Motorshow 2009 two weeks ago we spotted a special model we discussed before. The Bellagio Fastback Touring is a tribute to Maserati's successful Quattroporte model. Limited to only 25 pieces.
The European holding company Zeta Europe, owner of Ruote Borrani, Carrozzeria Touring and Carrozzeria Granturismo trade marks unveiled the vehicle at the Villa d'Este Concours d'Elegance weekend in 2008.
The saloon car period is transformed in a sports fastback with a rear door and large loading space. The dimensions and performance are identical to the standaard saloon. The vehicle weighs only 50kg more. The extra space can accommodate tailor-made solutions for its owner spaces for shotguns, ski, golf and all big objects in general.
Check out the real-live pictures below.