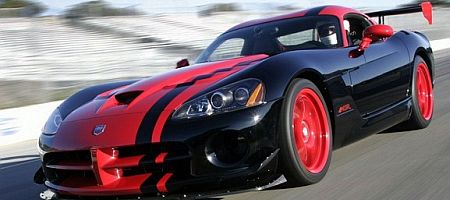 The Viper (or SRT-10 as it's known in Europe) will most likely be replaced next year by a new generation. This means that we'll probably see several special editions before it finally leaves us. The first of these has been announced, the Dodge Viper SCR 1.33 Edition. It's inspiration is drawn from the ACR that set the new track record for Leguna Seca a couple of weeks ago.
Only 33 of these cars will make it into customers hands. They boast a a two-tone Black Clear Coat/Red Clear Coat paintjob so that you can tell them apart from other more standard ACR's. Apart from that there is no difference from the standard cars.
They will however benefit from the 2010 model year upgardes. These include a new short-throw shifter, redesigned rear wing and a new fifth gear ratio, increasing top speed by 4mph to 184mph.
Following on from this will be the 2010 Voodoo-edition Viper ACR which will recieve black paintwork with red accents on graphite stripes. This edition will be even more exclusive with only 10 cars being released for sale.
If you want to see the Dodge Viper ACR 1.33 Edition and you happen to be in the US, then head down to the Los Angeles Motorshow which started yesterday. We understand this is where the will be unveiled.
[Via WorldCarFans]