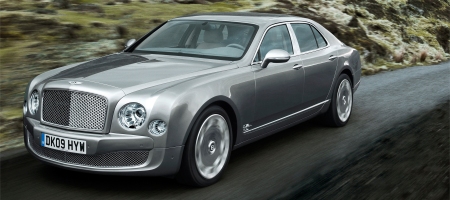 Bentley Motors has announced more details of the Mulsanne; the price and the official launch date. The Mulsanne starts at a base price of €243,000 – excluding taxes – and arrives in European markets in the Summer of 2010.
Production of the Mulsanne will commence at Bentley's Crewe headquarters in the second quarter of 2010. A newly constructed body production facility, dedicated to Mulsanne, is being completed.
The Mulsanne will arrive in European markets in the Summer of 2010. The luxury vehicle offers 114 paint colours, 21 carpet colours, nine wood veneers and 24 interior leather hides. In addition, through Bentley's bespoke service, a customer choose any colour he or she likes. The Mulsanne will take nine weeks to build.
The English car maker will announce further pricing news for international markets in the near future as well as further information about the extensive range of additional options with which the Mulsanne can be specified.