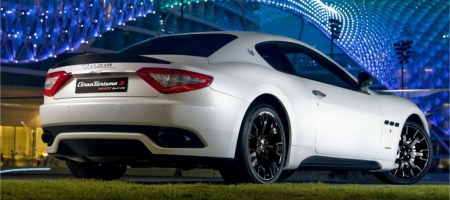 The Italian manufacturer Maserati has unveiled a limited-edition Maserati GranTurismo S MC Sport Line with Matt White "ICE" finishing. It was shown to a selected number of Maserati customers in the Middle East at the Yas Marina Circuit in Abu Dhabi.
Only twelve of limited-edition GranTurismos will be produced in Modena. They are all for Middle Eastern markets. The number twelve stands for two subjects. First the amount of world titles which make up the prestigious palmares of the MC12 in the FIA GT International Championship since 2005. Secondly the twelve Middle Eastern cities where Maserati is present with a dedicated showroom. Each car will feature a plaque with the name of the city to which it is committed.
Next to this dozen of cars for the Middle East a second line of vehicles is created. A limited and numbered edition of the GranTurismo S MC Sport Line are finished in "Matt Bianco Fuji". They will be dedicated to the Italian market. Only eleven customers in Italy will be able to sit behind the wheel of this exclusive car.
For those who want to add "MC Sport Line" extras to their Gran Turismo there is an aerodynamic package available. It includes double front winglets, rear lip spoiler, door sill inserts, black window surrounds, black exhaust pipes and body coloured door handles. Carbon fibre door mirrors and carbon finish door handles are also available. Several aesthetic features are available from the MC Sport Line option list, some of which can also be ordered for Quattroporte S and Sport GTS, including gloss black alloy wheels, interior carbon finishing and MC design aluminium racing pedals.
A single rate sports suspension system is available on the Maserati GranTurismo S Automatic, whilst for the GranTurismo S the MC suspension set up can be ordered. This includes lower ride height by 10mm, stiffer dampers, larger-diameter anti-roll bars which minimise lateral load shifts. Overall the car's rigidity is increased by 16% at the front and 32% at the rear. The Maserati Stability Programme (MSP) has also been re-calibrated for the MC suspension, allowing the driver greater freedom of action.
The "MC Sport Line" suspension is combined with drilled, slotted front and rear disc brakes providing a more predictable and a more immediate braking action, meeting all the expectations of those in search of peak handling. Compared to the standard units, the Sport Line discs are drilled with four slots and 16 blind holes around their perimeter.
For more information on the vehicles and packages contact your local dealership.