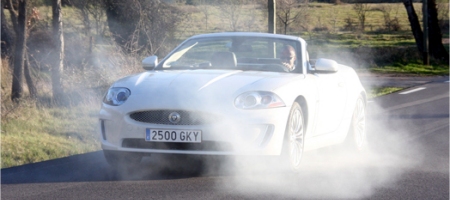 For drivers who bought a 2010 Jaguar XKR or XFR, dreams will become reality. The English car maker has unveiled the launch of its R Performance Academy, starting December 1st with a session at the Homestead Miami Speedway, USA. Unfortunately for our European readers, there is no news on a European package.
Participants will experience multiple types of driving. The academy will help drivers to fully explore the capabilities of the vehicles and train new skills and techniques, such as:
Maximum acceleration using various Jaguar Drive Control settings
Braking – and experiencing complete ABS stopping
Emergency lane changes
Dynamic Mode and DSC Off mode handling
Cornering
Autocross (slalom course)
Full laps at speed with driving coach and hot laps with racing drivers
After the initial Homestead Miami Speedway session, the Jaguar R Performance Academy will host events at the Las Vegas Motor Speedway, Monticello Motor Club in Monticello, New York and the Auto Club Speedway in Fontana, California, among others, on a quarterly basis.
[Via Motorauthority]