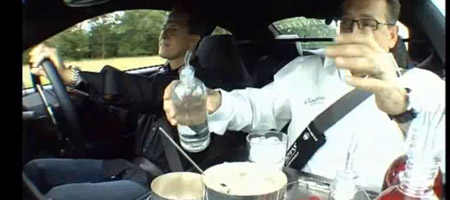 Here is the latest Anti Drink-Drive Video produced by Bacardi and Maserati featuring the one and only Michael Schumacher and Salvatore "The Maestro" Calabrese.
This video features Schumacher driving the Maserati Gran Turismo S around Dunsfold racetrack in England, while Salvatore "The Maestro" Calabrese, one of the world's top mixologist tries to mix the perfect cocktail.
This isn't the first video that Bacardi, Maserati and Schumacher have combined on to promote that drinking and driving doesn't mix. A previous video featuring Schumacher driving three opera singers around with the windscreen covered in mud was featured on the first episode of series 13 of Top Gear.