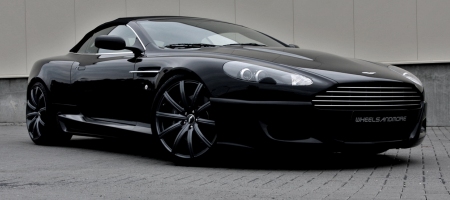 German cartuner Wheelsandmore have revealed their kit for the Aston Martin DB9 convertible. The kit includes exterior refinements, engine upgrades and 20 inch RS-V wheels. The interior stayed the same.
The exterior got a more aggressive looking polyurethane body kit, including side skirts, aprons in the front as well as rear and a rear lid spoiler. A new wheelset is added to the exterior appearance. In the front the Kahn RS-V wheels are 9.0×20 inches in diameter and are wrapped in Dunlop Sport Maxx 255/35/20 tires. The rear Kahn RS-V wheels are 11.0×20 inches and have larger 285/30/20 tires.
The stock version of the 6.0L V12 produces 476hp. After an ECU upgrade and the installation of a 200 cells sportcatalysts and a valve controlled, stainless steel exhaust system 60hp and 50lb-ft of torque is added up to the existing value. The exhaust system has remote controlled valve.
H&R delivered a springset for the Wheelsandmore DB9 convertible, lowering the car around 25mm giving it a more sportier look and better handling.
Prices range from €5999 for the complete wheel set up to €9000 for the bodykit including installation and lacquering. The exhaust system and 200 cells sport catalysts will set you back €8800, the ECU upgrade costs €3400. The lowering springs are yours for €1150.