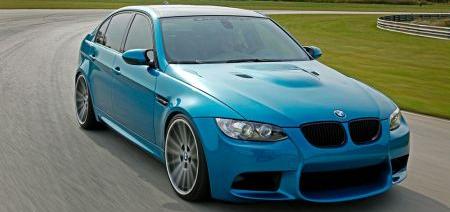 American tuner IND has created an one-off package for the BMW M3 sedan. Some might think it is a test, but it is not. They had the M3 Convertible in their shop before. The sedan is equipped with several unique features starting with an eye-catching new colour, called Atlantis Metallic.
The M3 gets a carbon fiber roof, redesigned diffuser and a bigger front bumper. The exterior upgrades are finished with the new Akropovic titanium exhaust system and a set of huge wheels, delivered by rims specialist 'Neez'.
IND invested some effort into the interior of the M3 and installed bigger Brembo brakes, a carbon fiber Dinan air intake and an ECU remap. It is quite clear that this M3 sedan will have more power than a standard one, but so far IND hasn't released any details yet.
[Via Autogespot]