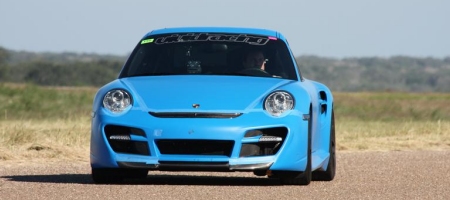 The Texas Mile is one of those ultimate driving tests on the surface of this planet. Different types of vehicles ranging from stock Camaro's and Shelby Mustang's to 1000+ horsepower Viper's and Corvette's compete in a standing mile race. Vivid Racing attended the event with their VR800 Porsche 997 Turbo October 16 and 17 after a twenty hour drive to Goliad County Industrial Airport.
As discussed before the new blue 997 Turbo has been heavely modified by the guys at Vivid Racing. More information on the changes can be found here.
The sports car was the fastest 997 Turbo at the 2009 event, the VR800 ran the standing mile in 196mph. With a 0-60 time of 3.5 seconds and a 60-130 time of 6.33 seconds.
More information is available via our forum!