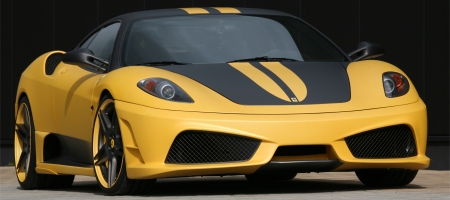 Novitec Rosso marks the farewell of the Ferrari 430 Scuderia by presenting the Edizione 747. Its matte yellow and grey paintjob is one of the highlights together with bi-compressor engine that boosts the power output of the V8 from 510hp / 375kW by 237hp / 174kW.
The upgrade includes some high-end engine conversions, more effective radiators and a special underbody with integrated air deflector to optimize supply of cooling air to the engine bay. A rated power output of 747hp / 549kW at 8,500rpm is reached after the upgrade. The increase in torque from standard 470Nm to 738Nm at 6,300rpm creates a plus in low-speed power. With a sprint time for 0 – 100km/h of less than 3.4 seconds, 9.4 seconds to 200km/h and just 22.9 seconds to 300km/h this model is the most powerful and quickest Scuderia in the world. The top speed ends at an impressive 351km/h.
The exterior refinements are highly noticeable. The two-tone special matte yellow and grey paintjob is companied by the installation of black taillights, side markers and reflectors. All carbon-fiber engine components come with a matte finish. Novitec Rosso also installed new rims, custom-tailored for the Scuderia. The diameter of the wheels surpasses the production wheels by one inch. The three-piece 20-inch NF3 double-spoke wheels in sizes 8.5Jx20 in front and 12Jx20 on the rear axle are fitted with Michelin Pilot Cup sport tires in sizes 245/30 ZR 20 in front and 315/25 ZR 20 in back.
To achieve more agile and direct handling the tuner installed its own springs, which lower the ride height of the Ferrari by some 30 millimeters. Drivers who need to navigate over parking ramps, low curbs and speed bumps can opt for the front axle hydraulic lift system. At the push of a button in the cockpit the front is raised by 40 millimeters. After safely passing over the obstacle, another push of the button reverts the suspension to its original position. If the button is not pushed the front end reverts to its original position automatically once the car reaches a speed of 80km/h.
Also the interior of the Edizione 747 received some adjustments. The Supersport steering wheel features a combination of leather and carbon-fiber and offers perfect grip. Its flattened bottom also makes entering and exiting the vehicle easier. To complement the steering wheel carbon-fiber shift paddles are added. They are longer than their production counterparts. In addition, upon customer request the German tuner equips the coupe with a two-tone interior matching the exterior colors.