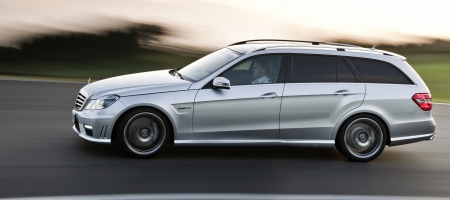 The top-of-the-line E-Class – the new E 63 AMG Estate – was officially revealed at the IAA 2009 last month. We had a closer look, but Mercedes unveiled some new footage today. It includes pictures and videos about the redesigned 2010 E 63 AMG Estate.
The high-performance estate develops 386kW/525hp, accelerates from 0 to 100 km/h in 4.6 seconds, offers a maximum luggage compartment capacity of 1950 litres making it one of the spaciest wagons in the market. The vehicle includes the all-new AMG ride control sports suspension including an electronically controlled damping system and a new front axle. A ceramic composite high-performance braking system is available for the first time for the E 63 AMG Estate.
If you need more information we suggest you read our coverage from the IAA 2009. The E 63 AMG Estate will be launched in February 2010, with German prices starting at €108,409 including taxes.