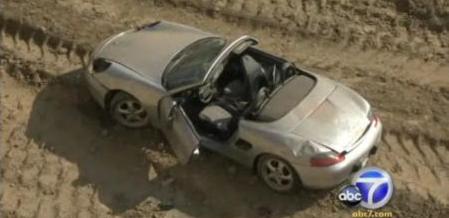 We've seen several spectacular crashes involving the nicest supercars. But this one is different. A 15-year old boy took his 12-year old cousin for a drive in his fathers Porsche Boxster. While driving the boy lost control of steering wheel, got off the road and ended up 21 meters (70 feet) lower off a cliff.
Amazingly enough the Porsche landed on its wheels and the two boys could just walk away from the scene. After a check in a hospital, both were released without any serious injuries. And last but not least, the LAPD will not prosecute the teenagers.
Click here to see a video of the scene!
[Via Autoblog.nl]