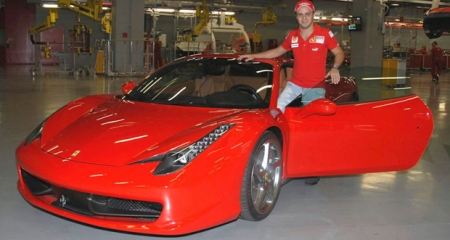 Almost two months after the accident in Hungary Felipe Massa has arrived at the Scuderia Ferrari and was greeted by Stefano Domenicali. The Formula 1 driver visited the new Ferrari production line to see the new car from Maranello, the 458 Italia.
Here he met CEO Amedeo Felisa, talking with him about the car. Before he went to the gym Felipe answered many emails and comments, which arrived at the official Ferrari website over the last days. The next days he wants to thank the fans for their support and answer their questions in a live chat.
Massa told Ferrari.com; "I'm finally back home. This is my second family and I couldn't wait to see them again, all the people I've been working with for many years and who have been close to me these days. Now I can really say that I start working again. There's lots to do, but I'm happy. I like the way in Maranello.