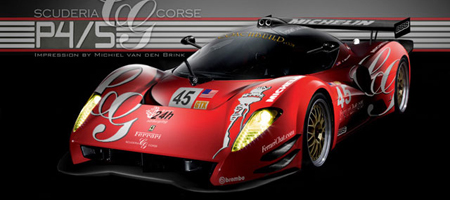 Remember the infamous Glickenhaus P4/5 built on the Enzo? Well if you do you'll be pleasantly surprised to hear that Glickenhaus has once more teamed up with Pininfarina on a project to develop a second car to a racing spec. Being one of FerrariChat.com's most respected poster's they were first to find out the plans and, being naturally curious, thery've drawn up two photoshopped ideas of what such a thing could look like.
The threads where the ideas are exposed suggest that the car could possibly run in one of the big European 24-hour races. Currently, a sponsor is being sourced for the project which would aim at developing a fresh car (not based on an Enzo) that could potentially run in such a race.
It's all hearsay at the moment although it does come straight from the P4/5 owners own words. The pictures were skilfully created by Michiel van den Brink.
[Via MotorAuthority]