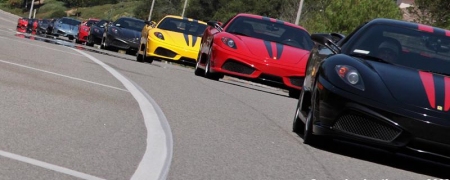 About 3.025 Ferrari Scuderia's and 16M's are being called back to the garage. Of course not all of them need to return to Modena, but all owners will get a request to visit their local dealership. Reason for this is a problem with the rear tires of the Scuderia which will run flat if you drive speeds up to 188mph (300 kmh).
The tire in question is the Pirelli P Zero Corsa with 'XB' code on it, other tires are completely trustworthy. The exact problem is determined as 'a possibility that rubber parts get loose from the tires profile when driving constant high speeds'. When you go to the dealer, you get a new set of tires for free.
Owners of other Italian sportscars do not need to worry about this problem, because this type of tire was especially developped for the Ferrari Scuderia series.
Gallery: Ferrari F430 Scuderia 16M in Geneva
[Via Autoblog.nl]