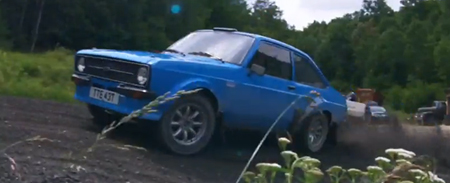 Rally drivers Ken Block and Chris Atkinson meet up to have a play with a legendary rally car from the late 1970's, the Ford Escort Mk2.
Chris Atkinson traveled to New Hampshire to meet up with Ken Block at Team O'Neal's Rally School and have a play in Ken's rear wheel drive 1978 Mk2 Ford Escort, rather than  usual AWD Subaru Impreza we are used to seeing Ken playing about in.
The Escort features a 2.4L four-cylinder Millington engine attached to a WRC style six-speed sequential gearbox, producing 280bhp.
Watch below to see them jumping, power sliding  around Team O'Neals gravel playgorund and click on it for the HD version!
[Via Autoblog]