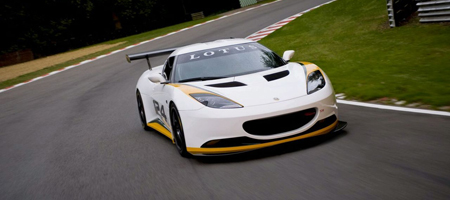 Lotus just revealed an endurance racer, FIA Spec version of their brand new Evora. It's planned that the new racer will act as a works car, Lotus have scheduled it's first race to be at next years ADAC Nürburgring 24 Hours. The Toyota V6 will feature around 400bhp depending on race regulations.
The evolution of the Evora from civilized road car to rip-snorting racer has been a relatively simple one. Many of the panels and standard equipment lends itself perfectly to the kinds of stresses expected from endurance racing.
Naturally though, a few changes have taken place. There's a new six speed sequential paddle shift racing gearbox for example, as well as the obligatory FIA fuel system, roll cage and fire extinguisher. Aerodynamically very little has changed. A new competition carbon fiber rear wing, diffuser and front splitter are pretty standard race modifications as are the cars new side sills.
In an attempt to lose up to 200kg, the Evora Type 124 now has carbon fiber panels. To complete the car, 18inch lightweight alloys have been added to the car which disguise the racing brakes. We'll find out whether it's any good next May at the Nürburgring 24 Hours!