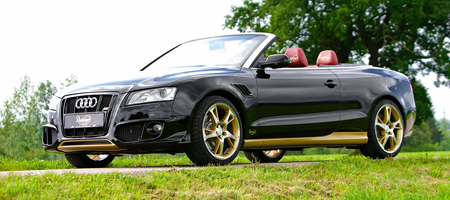 Abt have just taken the wraps off a car they've designed specifically as a promotional car for the Brewery Radeberger. We all know that Alcohol and cars don't mix and this car is certainly no exception to the rule! Black and Gold are the colours of the Radeberger brand so it's only natural that the car should be colored in such a way. Under the bonnet is the 2.0 TFSI engine boasting 275bhp.
0-100kph (62mph) takes just 6.7 seconds and top speed is hit at 271km/h (168mph). The car is essentially an Abt AS5 Cabrio so it shares the same body modifications and quad exhausts. There's a new front air dam, side skirts and a re-designed rear diffuser.
Inside there's video monitors, a fridge and a whole host of Radeberger logos. The car is to be raffled by Radeberger.