Heffner Performance just released the latest details of their twin turbo Lamborghini Murcielago, and it's no suprise it's quick and powerful but it's amazing to see how much Heffner Performance added in the months of development to their Lamborghini Murcielago LP640.
We quote: "As of August 2009 we have tuned the car up to 1 bar of boost which resulted in just over 1100RWHP. For now we are playing around with the car at various boost levels and documenting the differences in performance with our trusty V Box."
This sounds great but how does that work out in the real world I hear you think? According to Heffner the car benefits mostly from the huge power increase during sprints above 100km/h. A sprint from 100km/h to 210km/h takes only 5.1 seconds, 4.4 seconds quicker than a standard Murcielago. Heffner expects a little more boost will get the Twin Turbo Murcielago in the four second range.
Result of the Heffner Performance Twin Turbo Murcielago on the dyno: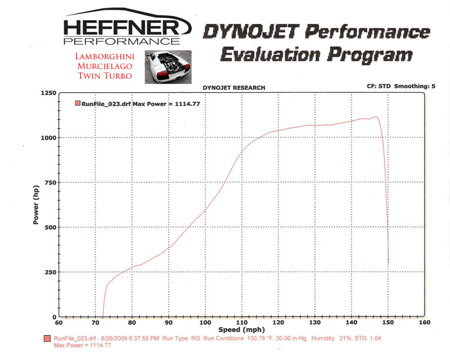 Thanks to the custom Heffner exhaust and the beautiful turbo whine the Murcielago as a great and unique sound which you sadly can't hear to well in the videos below.
Videos: