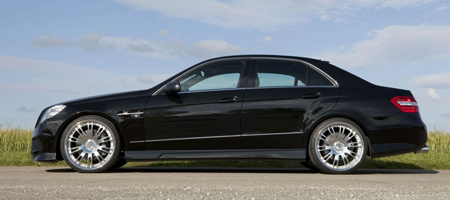 Based on the recently released Mercedes-Benz W212 E-Class, the Lumma E50 CLR looks less brutal than the companies previous CLR branded tuning kits. Both mechanicals and exterior of the E-Class have been optimised to increase aerodynamics as well as overall power.
On the outside, the E50 CLR gains a new front bumper with daytime running lights, side skirts, a new front vent, new spoiler and new bumper. As an extra option, the incorporated diffuser can be completed in carbon to increase the sporting look.
New 20inch wheels lighten the E-Classes bulk as well as giving the car a new individual look. Michelin tires, in sizes 245/30-20 and 285/25-20, give the car extra grip.
Mechanical tuning is available across the range of petrol and diesel engines. An example that the company offers is the E500 which gains almost 70bhp to a total figure of 450bhp along with 550Nm of torque. As you can see from the photos, the E50 also gains a new set of stainless steel quad exhausts to finish off the package.
Interior options range from new pedals to Lumma branded floor mats and boot carpets. A new speedometer is needed as the car also does away with its limiters.
PRESS RELEASE
Tuner LUMMA Design is specialized in refining upscale sports cars.

LUMMA Design launches a special edition based on the E-Class W 212. This special edition convinces through a lot of design as well as horsepower.

To achieve perfect visual appearance and high speed – aerodynamics is of extreme importance.

At the front the tuner from Winterlingen mount a front spoiler bumper with integrated daylights.

Unobstrusive side skirts (optional available with LED-entrance lighting) and design sport fender with integrated vents and a high gloss polished fin made of aluminium give a clear signal. The LUMMA CLR bodykit contains also a lip spoiler and a very sporty rear valance bumper with separate diffuser (optional available made of Carbon). Highlight: the trunk lid with integrated rear spoiler tearing edge and elongated change-over to the bumper – all made of Carbon/Kevlar in weight saving construction!

Extra light and up-to-date wheels were mounted for an extreme broad tread width. The LUMMA light metal rims "Racing Edition" size 9×20″ and 10,5×20″ were fitted with high performance tires from Michelin size 245/30-20 and 285/25-20. These tires provide controllable velocities in to sport car level. Due to a lowering module the E-class is 25 mm closer to the street – more is not necessary!

The serial model of the E-Class does not lack in capacity – but even here LUMMA Design offers diverse solutions.
An increased performance of the E 500 with V-Max cancellation up to 316Kw (450 hp) and 550 Nm torque. A D-Box is available for all Diesel -types, the increased efficiency is declared with about 20 %. Additional there is a "GPM-Powermodul" responsible for a better response of the accelerator and a noticeable performance enhancing.

LUMMA Design offers to this a special sport exhaust system, made of the finest stainless steel with 4×90 mm end pipes. After intensive development work the complete exhaust system is now ready for serial production.

The interior has changed positively too. A pedal-set for accelerator and brake pedal and emergency brake made of milled aluminium with non-slip rubber naps. Additional a footrest with rubber naps and a set of car mats made of high class suede (optional available in leather) and with embroidered crest. Sporty standard combined with individuality.

Furthermore there is an individual fitted trunk mat made of suede with the crest. An entrance strip set with lighted LUMMA lettering. Such detailed solutions are only known from luxury limousines. The new lifestyle is complete with the enlargement of the speedometer up to 300 Km/h. Now just get in and feel at home. Surrounded by high quality, love of detail and many intelligent features – the stay in the "E 50 CLR" is very convenient and sporty.