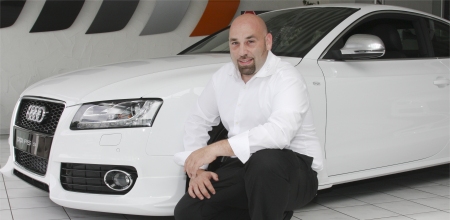 Since 1997 PPI Automotive Design started customising cars of the Audi brand. Their focus on the German brand and the boundless possibilities for the customer, to change, tune and individualize their personal vehicle have established the brand in the world of Audi tuning. To give you a closer look into the PPI Design world, our chief editor, interviewed Dr. Benjamin Abraham, owner and founder of the company.
DS: Who is Dr. Benjamin Abraham?
BA: Founder and CEO of PPI Design, US citizen and former physician. I have a passion for cars and I am the cheapest salesman you will ever come across. I love to talk to people and interact with them while developing my products, come up with new ideas and answer the passion that people have for changing their cars.
DS: For those not familar with the brand PPI Design, where did it all start?
BA: I started in 1997 as a tuner powering RS-models in Germany. Our development evolved up to 2004 when we started selling full Audi kits and packages. Implementing better parts without any compromise and with an individual approach. The main focus became to support customers with a full solution creating a marriage between style and tuning.
DS: PPI Design stands for?
BA: First of all, PPI stands for: Precision Performance Individuality. We are a tuner with a true focus on the Engineering in style. It is key that we fuse the elegance of an Audi lifestyle vehicle with the engineering and raw power.
DS: What inspiration is underlying your focus?
BA: As a physician you will always follow the natural lines of the body. From text books about surgery and Da Vinci I have learned that each object has its own natural lines. Breaking it, means killing the design or the beauty of the object. As a surgeon you will focus on creating an incision that doesn't break those lines and thus the beauty of a person. We do the same within the design of our own product range. Audi designs have the best looking natural lines nowadays, so if you change something you better be sure it improves the design or doesn't intervene with it. That is where we start on a new car and continue until the smallest detail is finished.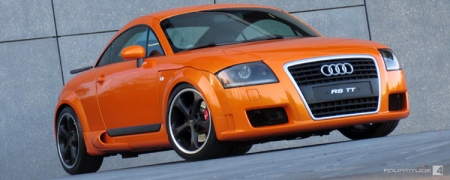 DS: What was your first car you did at that time?
BA: Our first achievement was the development of a kit for the orange Audi TT. We pulled 380bhp out of 1.8 engine at a cost of 500.000 euros only for development. A large amount of money for just developing one full kit in which we changed 274 of the original parts. TechArt helped us out with some nice wheels. The final result was a superb sports car. It was really fast, you could easily spin all four wheels.
DS: Audi is the only brand within your portfolio. How about other carmakers?
BA: Our focus will remain fixed to Audi. Other brands are out there, but we think that Audi mixes the best with our company philosophy, inspiration and bringing the most wild ideas into reality. Audi is a brand in which we can add value and enhance the products in a passionate way.
DS: How is your relationship with Audi?
BA: We are constantly in contact with the carmaker. Discussions are – of course – going on, but always in an open and constructive way. The strong position of the carmaker is a good basis for our success now and into the future.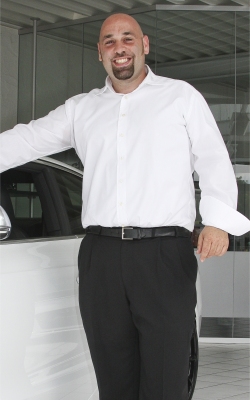 DS: What are your main markets?
BA: Interesting question, because of upcoming markets in Italy and the Middle East. Currently, the US, Baltic's including Russia and the Middle East are the best markets. An interesting market is Greece, but also the UK. The economic crisis hit the UK market hard and we have noticed it.
DS: Do you have a special client program in which special queries can be addressed?
BA: Any question is possible, but we will always protect the PPI design and stay within certifications. We have addressed several queries before. A nice example was a new Audi R8 wing. We designed it, approved it via wind tunnel tests and certified it via TÜV legislation. The customer paid for the full development and he got his own unique wing.
DS: Is there a close PPI "family"?
BA: We stay in touch with all our customers. We invite them to special events and make sure we transfer our passion to our clients. Also, we are committed to staying in touch with our clients, who become our extended family all over the world. No matter what the age, our clients are treated with the utmost respect and appreciation. We organize special events for our clients to participate in, from rallies, to driver education and racing lessons, to weekends in spas, to gatherings at different scenic locations all over the world. Our clients are passionate about our products and we are passionate about our clients.
DS: What are your plans regarding the future?
BA: Our future portfolio will grow with a total of ten new kits. Mostly upgrades and new stages for our current models, such as the Q7, A5/S5, RS4, RS6, R8 and TT. We are also planning a new lightweight version of the Audi R8 V8. It will be positioned in a higher class than the "standard" V10 model, and be equipped with a power upgrade generating more power than the V10 and at a competing price tag.
DS: What are your thoughts on the future plans that Audi has?
BA: We saw a few products dropping by. We do not know more than what is written on websites or in newspapers. The new Audi R8 cabriolet looks promising. We hope that Audi will develop a better cover for the engine. If not, then we will bring a glass cover showing you the V10-engine.
DS: Do you have something we can add to our story?
BA: Yes I can! We are planning the release of a R8 GTR racing car soon. Development has already started in a wind tunnel. It is mend for race classes, has four wheel drive and will be more expensive than the Audi R8 LMS. The LMS is a great car, we haven't driven one yet, but reviews indicate it is something special. Our version will have the current road car as a basis and will eventually be road legal.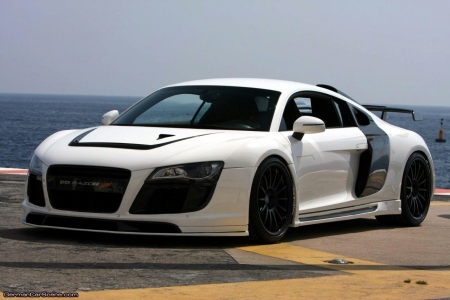 We like to thank Dr. Benjamin Abraham for this interview.