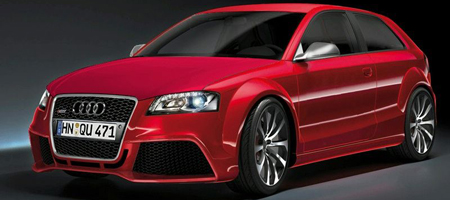 Having officially released the TTRS and with the RS5 on the horizon, it sounds strange that we should even be talking about the possibility of seeing an RS3 at the moment. Rumours suggest differently though and it seems a 2.5 liter engined RS3 could be destined for Frankfurt. The rumours stem from Swedish magazine Auto, Motor & Sport.
If the rumours are true it shows just how hard Audi's RS division have been working recently. We already expect to see the RS5 at IAA so a seconds RS car release would be an added bonus. Perhaps they're trying to go one better than BMW went with the X6M and X5M by releasing cars that customers might actually be able to buy!
As we've said before, it's likely the RS3 would use the same 2.5 liter, 5-cylinder turbocharged engine from the TTRS. This could produce as much as 340bhp and 450Nm of torque through Audi's legendary quattro system. There's even rumours that the engine could be a little more powerful.
We'll wait for something official first. We'll also keep our fingers crossed for Frankfurt.
[Via WorldCarFans]