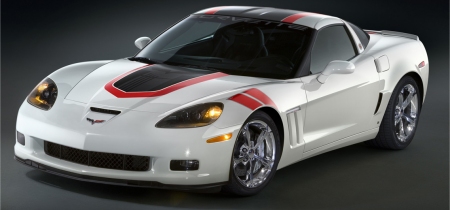 The National Corvette Museum in the US will be celebrating their 15th Anniversary celebration in early September. To celebrate this achievement an one-of-a-kind 2010 Corvette Grand Sport Coupe will be raffled during a 4-day event. The Arctic White 2010 Corvette Grand Sport features a unique black hood treatment featuring Corvette Racing's Jake mascot ghost painted in the center bulge.
A red stripe outlines the hood graphics and compliments the Grand Sport's red hashmarks on the fender. On the B-pillar you will find a The National Corvette Museum logo. This special edition is available with a 6-speed manual transmission, chrome wheels, dual mode exhaust, black headlights and a ZR1 rear spoiler. The interior contains red two-tone leather seats and an audio system with touch-screen navigation.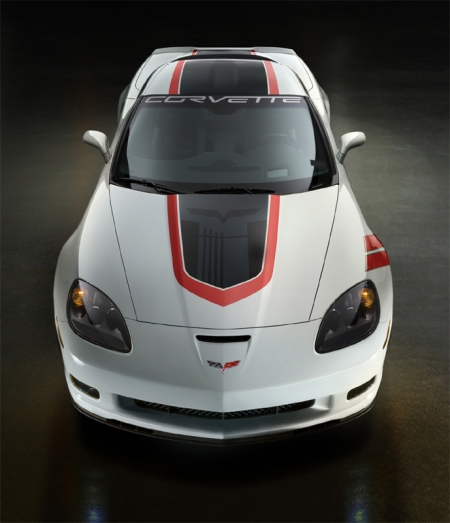 The organisation will only sell about 2009 tickets at a cost of $150 each. The Corvette will be raffled on the final day of the 15th anniversary celebration on Sunday, September 6th at 10:00am CST. True Corvette enthusiasts can visit the event from the 3rd of September up to Sunday. They can participate in events like seminars, road tours, special displays, parades, auctions, a live concert and the main event which is the official grand opening of the newly expanded National Corvette Museum.
Interested? Check out the website of the museum for more information.
[Via Corvetteblogger.com]