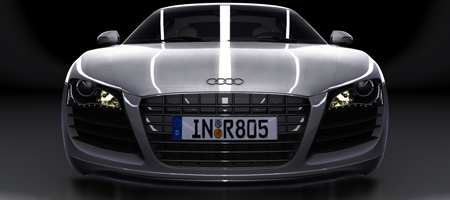 Rumours that Audi are going to release a concept version of the Audi R8 in electric form are circulating the web at the moment. The rumours suggest that the car could be called the R8 ePerformance and be powered completely by a set of batteries. To make it stand out and look fresh, the R8 ePerformance will also gain a facelift.
If the rumours turn out to be true, the R8 will have been revealed by Audi in at least 3 different alternative fuels. The R8 ePerformance's electric 'engine' would succeed the R8 V12 TDI we saw last year as well as the more standard (and showroom available) V8 and V10 models.
The R8 ePerformance is tipped for the Frankfurt Motorshow 2009 which is Audi's 'home show'. The car will also feature a new set of white LED's for the popular daytime running lights.
We're pretty sure that Audi won't be alone in revealing an electric concept at Frankfurt. We'll be there to provide you with the latest information as and when it happens.
[Via WorldCarFans]