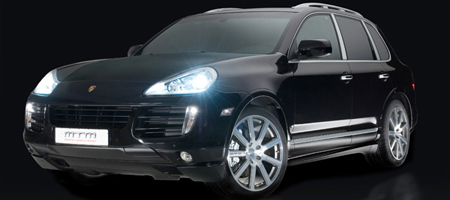 We've seen both Techart and Cargraphic shift focus temporarily from the petrol Cayenne's to the diesel model. Both companies gave it a light refresh and, more importantly, some extra power. Now it's the turn of MTM to do exactly the same thing and offer a package to take the Cayenne up to the 300bhp mark, surpassing both Techart and Cargrahic's efforts by 10bhp.
There's two different states of tune that touch only the cars ECU unit. At 285bhp the M-Cantronic option (€1,450) only 'chips' the car, modifying the cars current computer set up and optimising it's running systems. The 300bhp MTM-motronic option adds extra horsepower by replacing the whole computer system. This is another (€1,450) on top of the lesser kit .
As well as the headline power figures MTM have added a few extra cosmetic tweaks which will be made available for the oil burning Cayenne. First of which is a two sets of alloys a diamond cut, polished set for €3,360 and another set priced at €5,997. Both are 22inch and can be fitted with Dunlop tires.
Air suspension is another €1,499 option that can be fitted and 30-40mm spacers can be applied to make the car look wider. These are priced at €132 and €139 Euros respectively. All parts are available form MTM directly or through MTM representatives.