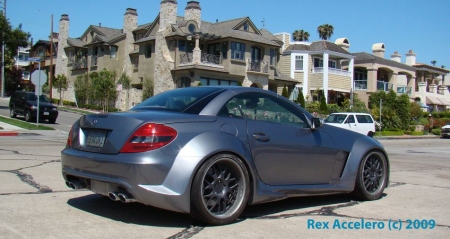 Tuner Rex Accelero has build a new package for the SLK 55 AMG attempting to answer the questions what the sports car would look like as Black Series. Rex came up with some changes to the front and rear fenders, a new carbon fiber lip, rear diffuser, tyres and springs. There are even plans to change the engine and add a supercharger.
The front and rear fenders were moved out by about 2.5 inch. Aerodynamic parts are placed in such a way as to give the car room to be used as a track day device. A vacuum-bag construction is used for both the carbon fiber lip and rear diffuser to ensure minimum weight and strength. Thus a 50:50 weight distribution can be achieved.
The engine is still the 5.4-litre V8 delivering 367hp (270kW). The California-based tuner is planning a supercharger with the goal of 500hp (368kW).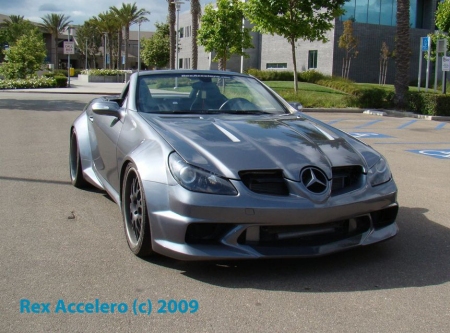 [Via Autoblog.nl]