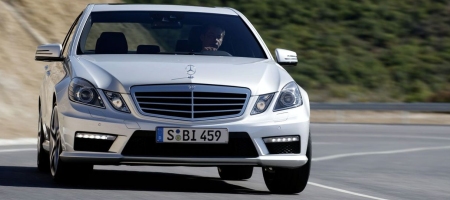 Mercedes has released more details of the new top-of-the-line E-Class model; the E 63 AMG. The press release contains more than eight pages of information covering everything there is. We will be focussing on the most important parts of course like the engine, top speed, gearbox and changes with respect to the normal E-Class models.
Most important difference is the 6.3-litre V8 engine which stayed naturally aspirated. You will also get the completely newly developed AMG RIDE CONTROL sports suspension with electronically controlled damping and a new front axle. The exterior and interior design comes as standard. The newly developed ceramic composite brakes are available as an option.
The AMG engine develops an output of 386kW/525hp and a torque of 630 newton metres, matching the figures for the SL 63 AMG. The high-performance Roadster has also donated its AMG SPEEDSHIFT MCT 7-speed sports transmission to the new model. This transmission doesn't have the conventional torque converter but uses a compact, wet start-up clutch. Four individual drive modes – "C" (Controlled Efficiency), "S" (Sport), "S+" (Sport plus) and "M" (Manual) -, the double-declutching and Race Start functions ensure a dynamic driving experience.
The E 63 AMG accelerates from standstill to 100km/h in just 4.5 seconds, with a top speed of 250km/h (electronically limited).
The E 63 AMG can be dynamically enhanced even further with the Performance package. The package includes different AMG light-alloy rims, AMG RIDE CONTROL Performance suspension, AMG rear axle locking differential, AMG spoiler lip, AMG Performance steering wheel, interior extras and exterior carbon package. There is also an AMG Driver's Pack including a restriction of top speed to 300 km/h, attendance at driver training at the AMGDrivingAcademy, AMG spoiler lip and roller blind for rear window.
The market launch of the new E 63 AMG will commence in August 2009.