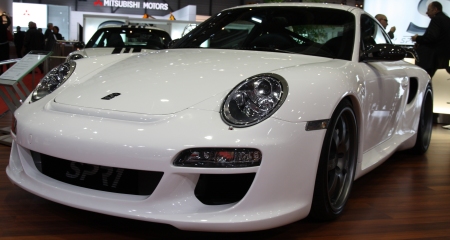 Swiss automotive tuner Sportec has announced their latest addition to its range, the T80 a new version of the SPR1 based on the Porsche 997. Build upon the performance of the SPR1 range Sportec increased the power of its bi-turbo, 3.6-litre, 24-valve, flat six T80 engine to a 858bhp.
The Sportec SPR1 T80 takes a mere 3.0 seconds to hit 62mph (100kmh) with 186mph (300kmh) appearing in just 18.9 seconds. A top speed of more than 236mph has been recorded at Nardo, Italy.
The sports car packs titanium connecting rods, a flat carbon fibre under floor, active suspension and F1 style ceramic brake discs. The use of composite (carbon / Kevlar) body panels, a carbon fibre rear wing, forged alloy wheels, an integrated safety cage and ceramic brake discs allows the SPR1 to be as light as possible.
The SPR1 T80 is available in several colors and has a special leather / alcantara interior.