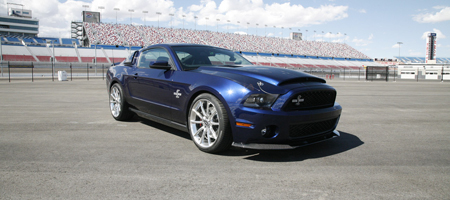 There's one tuner that fans of the Ford Mustang wait to hear from after the release of a model, the legendary Shelby. Whilst here in Europe this legendary name doesn't have too much of an effect on us, we still love to hear of the crazy modifications that companies like this produce. Roll on the 2010 Shelby Super Snake, now packing 725bhp!
For those who just don't want as much power, Shelby are also offering a 630bhp package, still a considerable 90bhp gain on the standard GT500 on which the car is based. There's also a third varient which produces very little power gain but still gives the owner the Shelby look.
The name Super Snake traces it's way back to Carroll Shelby's original 1967 GT500. A sometime supercar, the Super Snake name has enjoyed a revival on the previous Mustang series and now returns for 2010.
The GT/SC is the lower of the packages, whilst still packing a reasonable spec list, the car 'only' packs 550bhp. $31,499 (€22,376) gives you a Baer 6 piston extreme brake upgrade, along with the usual Shelby trimmings, the grille, the badges, Shelby gauges and 18 inch alloys. New tires, a new one-piece drive shaft, rear suspension upgrades and Shelby Performance cooling package finish off the package and offer brilliant value for money.
SHELBY GT500
Unique to the 630bhp package are a Ford Racing Supercharger, good for 630bhp and 590ft lbs of torque and a Borla exhaust system. This package is called the GT/SR and advances a considerable amount on the 'SC' to make it the middle of the range option. Building on the 'standard' SC package, options for the SR include Ford Racing and Kenne Bell options for the cooling system, a new performance clutch, extensive suspension fettling, a roll cage option as well as a 3:73 gear set. Some extra visual options are also available including a two tone interior and a new Shelby front spoiler.
Any Shelby GT or GT/SC owner choosing the Shelby GT/SR option will receive an "owner appreciation" discount of 10% off of the pre-tax package price.
SHELBY GT/SR
The headline car without a doubt is the 725bhp GT500 Super Snake. To create the kit a Kenne Bell Supercharger is fitted alongside an upgraded inter cooler and radiator, a cold air intake, and a high-flow JBA exhaust system. Ford Racing suspension with adjustable dampers, stiffer springs and thicker anti roll bars attempt to calm down the handling and Pirelli P-Zero tires wrap the new 20inch alloys.
Track tuning is available for an additional $750 and the Super Snake package comes in at as little as $33,495 (€23,749), we guess at a pre-tax value.
SHELBY SUPER SNAKE
[Via AutoBlog]