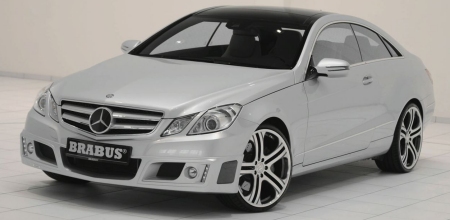 The new Mercedes E-Class Coupe just went on sale and BRABUS already presents an full tuning program for the new two-door. Their main achievement is the BRABUS 6.1 engine, which has a power output of 462hp (456bhp)/340kW and propels the E 500 (US: E550) to a top speed of 315km/h (196mph). There is even an aerodynamic-enhancement program and several changes to the interior and hardware inside the car.
This BRABUS 6.1 engine has some really nice figures. A rated power output of 462hp (456bhp)/340kW and a peak torque of 615Nm (453lb-ft) at just 3,100rpm are the result of the displacement increase of the four-valve V8 engine from 5.5 to 6.1 liters. 0-100km/h (62mph) in 4.7 seconds and a top speed of 315km/h (196mph).
The BRABUS designers have also developed an aerodynamic-enhancement package for the two-door E-Class. It is manufactured from Pur-R-Rim in OEM quality. The front spoiler has integrated LED daytime running lights. BRABUS adds highlights to the sides with new aluminum front sport quarter panels with integrated clear-coated carbon-fiber inserts. The rear apron features a centrally mounted reflector and custom-tailored cutouts on either side for the four tailpipes of the sport exhaust system.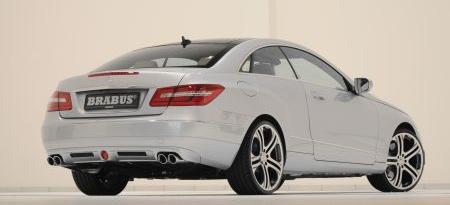 The appearance is rounded out by one-piece or multi-piece BRABUS Monoblock light-alloy wheels with diameters of 17, 18, 19 and 20 inches. The largest tire/wheel combination features VI, E, Q or S wheels in size 9Jx20 on the front axle and in size 9.5Jx20 in back. High-performance tires from Pirelli and YOKOHAMA are mounted in size 235/30 ZR 20 in front and in size 265/25 ZR 20 on the rear axle.
BRABUS also offers a high-performance brake system for the new Mercedes coupe. It features six-piston aluminum fixed calipers and 360-mm (14.2 inches) vented and cross-drilled discs on the front axle. The rear axle stops with four-piston aluminum fixed calipers.
The German tuner will customize the interior of the new E-Class Coupe to customers' specifications. The list of interior options includes stainless-steel scuff plated with illuminated BRABUS logo, an ergonomically shaped sport steering wheel and an entirely new interior crafted from durable Mastik leather and Alcantara.