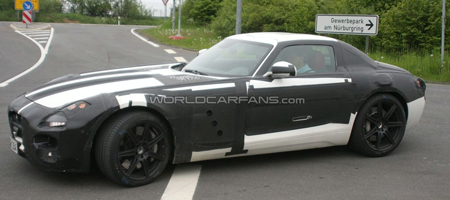 The Mercedes SLS pre-production mule is like a page 3 glamour model, every time it's spotted, it seems to reveal something new and interesting! Although we've seen this particular mule before, these photos from WorldCarFans seems to provide us with a closer look at the areas that Mercedes have attempted to cover up.
There's a closer look at the rear to start with featuring the oval, square shaped dual exhausts. The light cluster appears to have revealed itself to us a little more as well as the overall shape of the rear. The front grille is also evident in these photos, particularly the large Mercedes badge, reminiscent of the 300SL of the Sixties.
The car was spotted testing at the Nurburgring. Check our other posts for full details of the car.
[Via WorldCarFans]