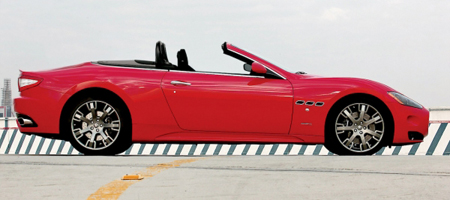 Maserati's current model range has revitalized the marques brand image. The Quatroporte is the most elegant four-door supercar and the GranTurismo is one of the most capable GT cars about. However, Maserati are missing a convertible model form their line-up for the time being. They are about to change this with the introduction of the GranTurismo Spider.
Seen here in an artist impression, the Spider is likely to be released to the public in 2010. This means that the first public unveiling could be at the Frankfurt Motor Show in September. We expect it to have the same engines as the 405bhp current version and the 440bhp 'S' model.
A few questions about the car remain unanswered so far. The spy shots that we've seen (over a year ago) show that Maserati were playing around with the idea of some sort of folding hardtop variation. However, judging by the history of the brand, we suspect that a GranTurismo Spyder would feature a folding fabric roof.
It will be designed by Pininfarina and prices should start at around £86,000, €97,000 or $130,000.
[Via AutoBlog]