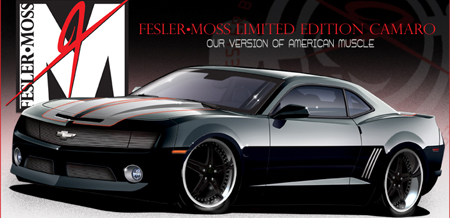 Another tuner to join the ranks alongside Hennessey and Lingenfelter. Fesler Moss are a relative unknown in the US tuning market. Unlike both Hennessey and Lingenfelter, they don't have a rich tuning past. They've turned their eyes to the Chevrolet Camaro and promised to deliver up to 60 cars a year tailored to the individuals demand.
More or less any GM Performance engine can be slotted into the car, including the LS9 from the Corvette ZR1. The list published on the Fesler Moss website includes the GM Performance LS-3, LS-7, LS-9 and LSX engines. The means that cars will be able to produce 600bhp+ at their highest specifications. The company will also add a Fesler-Moss branded Magnuson Supercharger and an exhaust system upgrade to push out a little extra power depending on the engine you choose.
This will be controlled through a 6-Speed transmission with a set of paddle shifters by Mastershift and an upgrade to the rubber that holds the whole thing on the tarmac. Obviously this will require a new set of Fesler Moss alloys which will also hold a set of upgraded brakes.
Sound systems, Suspension upgrades and Interior upgrades can all be specced in the build specification. There's a wide range of colors available as well. Judging from the info that we have available at the moment, the Fesler Moss Camaro is very much a spec-it-yourself kit and could cost owners anywhere between $50,000 and $150,000+.
We prefer the Lingenfelter kit if we're completely honest, but we suspect that the lure of an LS9 powered Camaro would be too much for some potential customers to resist!