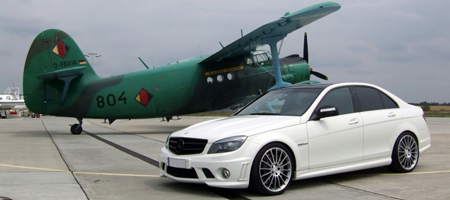 After tackling the Audi RS6 with limited success (admitedly nothing to do with the companies tuning abilities), German tuning house AVUS Performance have moved on to the Mercedes C63 AMG.  Known simply as the AVUS Perfomance Mercedes C63 AMG, the conversion is nowhere near the high horsepower standards that were set by the RS6.
Understatement is a big part of what AVUS do so you'll notice that the car looks more or less the same as a stock C63 AMG. It retains the same 19 inch alloys but gains a lower suspension set-up which ensures it has a sportier look than the standard car. A de-badging has been applied as well as a blacking-out of the chrome grilles to contrast the white body.
A new exhaust adds a fresh sound track and the car can have up to 585bhp (a stage 3 conversion). New brakes and a de-restricted top speed of 320kph (199mph) are also mentioned by the company. We like it, if anything it makes the C63 AMG look more civilised for those who want the power but not the attention that usually comes with it.
[Via AutoBlog.nl]