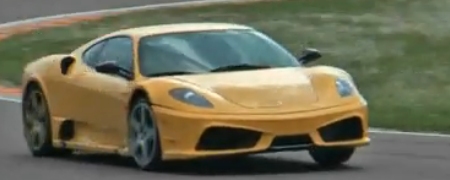 Our friends from WorldCarFans received a video of the Ferrari F450. The video shows a mule of the new supercar taking laps on Ferrari's own racing track and heading back to the factory. Nothing is official at this moment. All the information available is speculative and we are waiting for the official introduction at the IAA Motor show in September.
The rear wheel drive F450 is rumoured to get a 500hp 4.5 liter V8, mated to the California's double-clutch gearbox. The power output will top the F430 Scuderia's 520hp, possibly by increasing the maximum rpm to 10,000, while tuning the cooling system. The bigger air intakes, seen very clearly at 1:37 into the video, could be a part of this system.
The car in the video got some exterior changes like a bigger front end, different position of the exhaust pipes and the side sills which have taped up bits, seen at about 1:19. The sound is definitely Ferrari-style. At the end of the video you will notice some slow and steady shots of the car and a sister mule on the open road.
[Via WorldCarFans]