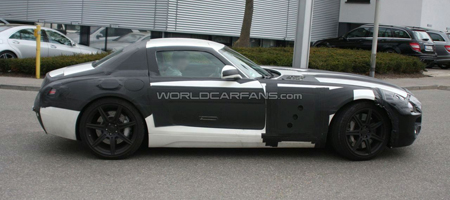 There is not much we can really tell you about the development of the Mercedes SLS AMG Gullwing. Mercedes have told us almost everything we need to know about their new flagship model in various press releases recently. We thought we would show you some pictures of this white test mule.
It's wearing thinner camoflage than the other two SLS prototypes and looks to be pretty much a complete car underneath! It's Mercedes first attempt at a supercar since it's recent split with McLaren.
Details of the cars powerplant and pictures of it's completed interior have both been released prior to it's IAA 2009 official unvieling.
The SLS is powered by a 6.3 liter AMG tuned V8 and delivers 571bhp and 650Nm of torque. This means 0-62mph (100kph) is dealt with in just 3.8 seconds and it will keep going until 195mph (315kph). A seven speed double clutch gearbox puts the power to the ground and an aluminium space frame body keeps the weight down to just 1620kg. The SLS sees the return of the iconic gullwing doors made famous by the classic 300SL. Braking will be dealt with by the Ceramic brake discs.
For details on the cars interior, click here.
For detailed photos of the black test mule, click here.
[Via WorldCarFans]