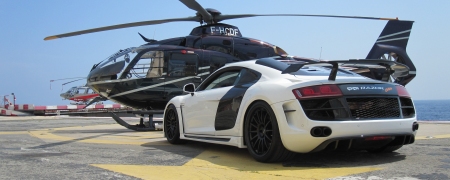 The PPI Razor GTR has been officially launched last week. During the event we had a closer look at the best looking tuned Audi R8 we ever saw. PPI has set a new standard. Tuners like MTM and ABT are next to show what they can do better with respect to this great looking supercar. PPI developed the GTR next to the Stage I and Stage II 'normal' Razor unveiled at the Essen Motor Show last year.
The main differences between the three versions are the available tuning packages and added interior and exterior changes. The stage I & II kits produce an increase power output to 348kw / 460hp and an increase of torque to 465Nm/343lbs-ft. The stage IV package produces 427kw / 650hp at 7,400rpm, a maximum torque of 600Nm at 6,200 rpm.
This results in a top speed of 192mph (311km/h) and sprinting from 0-60mph in only 4,0 seconds in case of stage I and II. Stage IV gives you a top speed of 332km/h and 0 to 100km/h in only 3.7 seconds. The differences are achieved by adding a supercharger, a ram-charged sport air filter system and a high performance exhaust system to the Razor GTR.
Exterior changes are mainly changes to enhance the aerodynamics. All PPI aerodynamics for the R8 are made of carbon fibre. The package includes a lift reducing front lip spoiler. This more aggressive front air damn is designed to channel air to the front brakes. Side sills sedate air inflow between the axles and provide this vehicle with a sporty and aggressive look even when standing still. The diffuser with integrated air channels for exhaust pipe cooling stabilizes the rear with extra downforce and directional stability. The new double-sided rear grill deflects engine heat and exhaust system outwards and flanks the middle rear plate. Rear spoiler with its adjustable wing increases downforce on the rear axle and completes the sporty elegant look. The Razor GTR stage IV adds a new hood to the package.
There are different interiors available for the two packages. Stage I and II have a handbrake, door entry threshold plates and a middle instrument panel in carbon fibre. The technical highlight of the interior is the steering wheel (available with carbon fibre sections) with additional interface controls for its driving dynamical program. Offered on special request is a personalized floor mat set furnished with leather trim.
The Razor GTR has an Onyx Nubuck-leather interior with orange-coloured accents and highlights. You will find PPI Razor GTR badging, threshold plates, and an aluminium production plaque framed by carbon fibre. The ultra-light folding sport seats are made of carbon fibre and bear the PPI "Sport Identity" style, following with the headliner, the steering wheel, shift knob, door panels and center console.
If you add all up can you change your R8 to any possible package you want to. Within interioir, exterior, wheels and performance several options are available. The Razor GTR is the best available R8 tuning package until this moment. So if you want to change your standard Audi R8 to something special PPI should be an option to consider. More information can be found here.