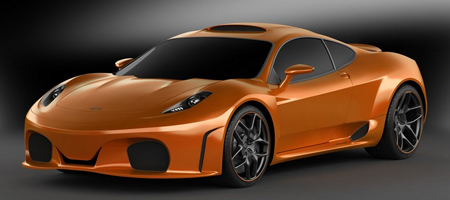 German tuner, Novitec Rosso have made a name for themselves as being one of the only tuning companies brave enough to tune the complete Ferrari model range. Today, we heard they were developing something a little more complete than previous projects.
The car we see in the pictures is called the TuLesto and will be limited to just 11 units. It's the most powerful F430 based model to come out of the tuners garage yet. It boasts a dual supercharged 4.4 litre V8 with a staggering 777bhp and 727Nm of torque at 6,300rpm. All this in a package that weighs just 1,260kilograms (2,777lbs), over 200kg (400lbs) lighter than the standard F430 Coupé.
All these statistics mean that the car has a 0-100kph time of less than 3.4 seconds and goes on to reach 300kph (186mph) in just 22.6 seconds. Top speed is said to be in excess of 350kph (217mph).
The fantastic weight gains are made possible, in part to the new aluminum and carbon fibre shell that Novitec Rosso engineers have designed, for example, the chassis and safety cell are engineered entirely from lightweight aluminium. The suspesion also features a number of modifications which emulate the build of GT-series racing cars, the height adjustability function of the suspension allows the car to retain some road functionability.
For the bodywork, Novitec Rosso recieved some help from Luca Serafini Stile in Modena (Now it starts to look a little familiar!). The TuLesto is 462 centimeters long, 204 centimeters wide and 122 centimeters wide. It's also been created with aerodynamic efficiency in mind, from the smooth underbody to the integrated venturi and diffuser.
Other features of the car include the 6-speed semi automatic gearbox as well as a traction control system. The brakes feature ceramic composite discs and six-piston fixed calipers. As we said earlier, only 11 will be made to ensure exclusivity. No doubt they will be priced to compete with the RUF CTR3.