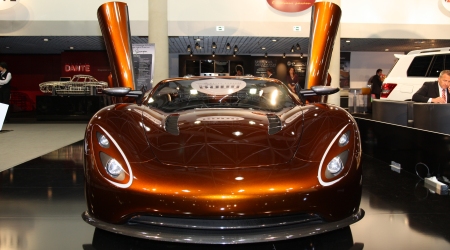 The Ronn Scorpion celebrates it's European debut at this years Top Marques Monaco. Austin, Texas based company Ronn Motors build the Scorpion from scratch in only six months. The Ronn Scorpion comes with an Acura engine delivering 450hp to the rear wheels. The car is equipped with a 'hydrogen fuel injection' that reduces the carbon emission by 75%.
The production of the Ronn Scorpion will start later this year and will be limited to a maximum of 200 Scorpions a year. The concept version shown in Monaco is open only but the production version will have a removable hardtop and an 'emergency' softtop in case it starts to rain when you are on the road. Additionally the wheels will be made of carbon to reduce the weight of the car to a total of around 1000kg. This low weight is also thanks to the carbon fiber body and lightweight Acura 3.5 liter V6 type S engine with twin turbochargers.
The body is designed by Ronn Maxwell and available in seven standard colors and an unlimited number of custom colors. The car comes equipped with a front and rear diffuser, carbon wing and smooth aerodynamic undercarriage. The interior is a bit standard but has everything from satellite navigation to a Bose sound system.
The Ronn Motor Company is currently looking for ways to distribute the car in Europe. We look forward to see the production model at the SEMA show in november.