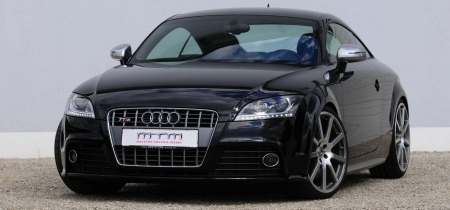 MTM has introduced their latest package for the Audi TT-S Quattro with S-Tronic, renamed the car to TTS-R. A package outperforms the new TT-RS and boosts the performance up to 380 or even 494Nm. It also includes Brembo brakes with 8-piston calipers, MTM bimoto forged 20-inch wheels with Michelin Pilot Sport PS2 tires (245/30 ZR20), a rear spoiler and lowering springs.
The 2.0 liter TFSI TT-S Quattro will swap owners for 46,000 euros. The 380hp MTM version will cost you 73,715 euros in total. Too much for an Audi TT? You can also get the downsized 330hp version with 420Nm of torque.
The maximum speed for both packages is 265km/h. The 330hp TTS-R will cost you more than 10,000 euros less than the 380hp version at a more reasonable price of 63,103 euros.
[Via WorldCarFans]