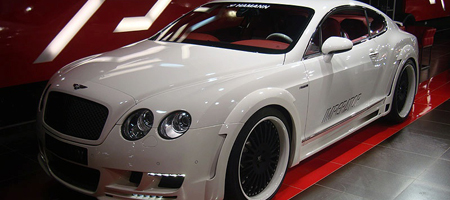 We haven't agreed with too much of what Hamann have bought us recently. To be honest, this modified Bentley Continental is not going very far towards changing our opinions either. The German company released fresh images today of the complete kit that they are now offering for the standard Continental GT and the GT Speed.
It's 16-piece kit including a new bumper with daytime running lights, side skirts, fender flairs and many new air intakes. There's also a choice of either 21 or 22 inch alloys. Engine modifications bring the standard GT up to 630bhp and the 'Speed' to 650bhp with a new exhaust and ECU tune. Air sprung suspension is also part of the kit and enables the front to be lowered by as much as 30mm and 20mm at the rear.
This version, limited edition number 1, is on sale in the Dubai dealership.
[Via WorldCarFans]