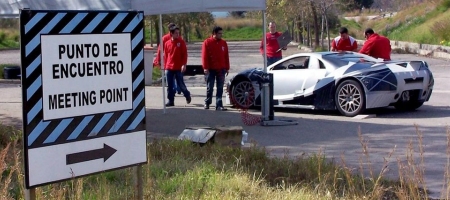 The GTA Concept has finished its final tests before its official launch at the end of April. Spain's first ever supercar will be build by the company GTA Motor. Production consists of a limited number of 99 units.
With an acceleration from 0 to 100km/h in under 3 seconds and a top speed of over 350km/h it shows its potential. These numbers are achieved after three years of development. An example of this extensive development is the glass panoramic roof which gives an open air feeling. The roof has a patented system of interior lighting and liquid crystal shading.
The chassis has been created combinating Kevlar, and carbon fibers as well as titanium. The engine is a V10 mounted in a longitudinal rear position and has 780bhp and 920Nm of torque. The car has a seven speed sequential manual geabox, with the option of an automatic system with paddle shift in the steering wheel.
The tires are the latest Pirelli Pzero wich measure 255/35 on a 19 wheel at the front and 335/35 on a 20 wheel at the rear. Exclusively made for this car. The braking system contains ABS with 380mm diameter carbon ceramic ventilated disc brake system and 6 piston callipers manufactured by AP Racing.
[via World Car Fans]