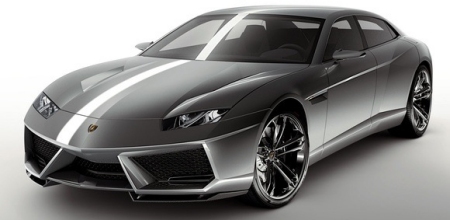 Lamborghini revealed their superb looking Estoque four-door supercar at last autumn's Paris Motor Show. The Estoque is a four-seat concept mixing a front/mid-engine setup, permanent four-wheel drive with the looks of a distinctive Lamborghini. It is confirmed that the stunning car has been shelved by the Italian manufacturer due to the economic reasons.
Maurizio Reggiani, head of research and development at Lamborghini, told AutoCar that the Estoque has been put on ice for the time being. "The timing and market conditions are just not right for an additional model line."
This decision is the first step into a dramatic change of its future strategy. The Italian car maker has decided to focus on a new back-to-basics strategy containing dramatic weight savings and possible usage of normally aspirated power plants in stead of any future turbo charging engines.
The usage of a DSG transmission has also been a discussion point. The R&D chief stated they will stick to the current e-gear transmission because it offers "the best combination of weight saving and mechanical interaction". DSG would be "too smooth" for Lamborghini owners. Reggiani even indicated they could drop manual transmission as a whole. Interesting decision, which could show its first glimpse in the newly developed Superleggera version of the Gallardo LP560-4.
[Via AutoCar]