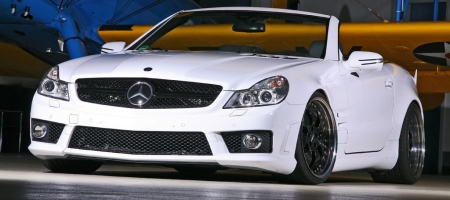 Inden Design has redesigned the original SL65 AMG of 2005 and only used original-AMG parts for its redesign. It contains elements from the SL-2008, new aluminium rims and a lowered suspension.
The complete front-, rear- and bodyside lines have changed, just like: the headlights, the bonnet and the front- and rear valance, based on the design of the new SL-2008. At the rear valance they attached a carbon rear diffusor and a sport exhaust system in the new look of the original SL65 AMG.
But that's not all. New aluminium rims are sized 10,5×19 inches at the front and 11,5×19 inches at the rear. The high performance tires are sized 255/30-19 and 305/25-19.
Inden-Design modified the AMG-engine. The engine got a re-engineered turbo charger, an enhanced intercooler, an extra gear oil cooler and improved engine electronics. The Inden SL delivers 680 HP.