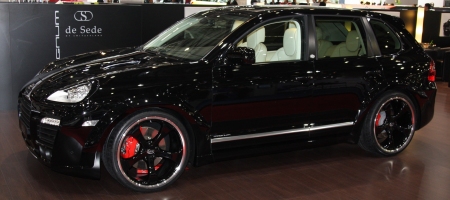 At the Geneva Auto-Salon 2009 TECHART presented their latest generation of the Magnum complete with increased performance and comfort. Changes to the interior and exterior are added up to this special version based on the Cayenne Turbo S.
The newly developed performance package increases the overall engine output to 680 hp (500 kW). The maximum torque increases to 900 Nm at 4.200 rpm. The Magnum will catapult you from 0 to 100 in 4.2 seconds and from 0 to 200 in 14.5 seconds. The speed ends at a maximum of 308 km/h.
A new front apron has been added, which features new chrome detailing, a LED lighting system and different air intakes suppling the radiator and front brakes with cooling air. The fenders and sill panels were changed too. Same can be said about the new rear apron with an integrated diffuser, two double-flow exhaust pipes and LED day driving light system. The system consists of a combination of day driving lighting, side lighting, parking lighting and indicator lights.
The Sport air suspension module lowers the car body by 30 mm in comparison to the standard Porsche Cayenne Turbo S. The appearance is rounded off by the alloy wheel rims ranging from 20 to 23 inches.
Next to the exterior changes, TECHART added a luxurious interior to the new Magnum. It features an exclusive range of de Sede interiors. The air-conditioned seats are a new feature. It ensures that the two seats in the front and two separate rear seats have always a pleasant temperature.