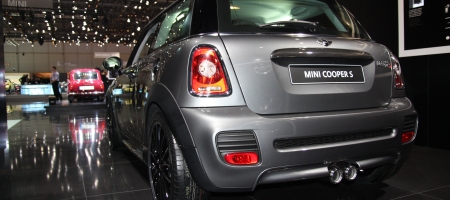 March was a very busy month, especially around Geneva. Carmakers from around the world were gathered to display their latest and greatest. Custom car builder Arden was at the Geneva Motor Show with four of its special models and had some special news for us.
Next to the models mentioned below we will see a special version of the BMW's Mini Cooper S at Mini United 2009. It will be one of the most exclusive Mini's ever build. Mini United 2009 will be held at Silverstone from the 22nd until the 24th of May.
Arden displayed their AR6 Stronger, AR7 Highlander, AJ20 Wild Cat and AJ21 Fast Cat. The AR6 has new huge, deep-dish wheels, a fully custom body kit and a lowering kit. The AR7 got quite a similar treatment. However they kept some of the Range Rover's soft-road capability.
The AJ20 is a sportier adaptation of the Jaguar XKR. Aggressive wheels, a custom hood, a set of side skirts and front and rear fascias will change the look of the car.
Finally, the AJ21 is a custom version of the new Jaguar XF. New LED accents in the front fascia and an aggressive hood and side skirt treatment are part of the setup.
[Pictures via Motorauthority]