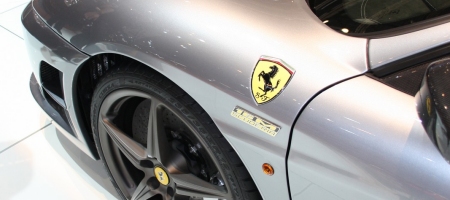 In celebration of its recent victory in the Formula 1 Constructor's World Championship 2008 Ferrari chose to unveil their latest family member the Scuderia Spider 16M at the World Finals in Mugello last November. The new 16M version of the F430 has the best of Ferrari's latest mid-rear-engined 8-cylinder technology. We spotted it at the Geneva Motor Show and had a closer look at it.
Only 499 unique examples will be produced. It is aimed at the most passionate clients and available in two new signature colour schemes: black with a grey trim is standard, while a tricolour livery is also available as part of the Carrozzeria Scaglietti Personalisation Programme.
We spotted a special plaque on its rear grille commemorating Ferrari's 16th Constructor's World title. In the interior you will find a silver "limited series" plaque just above the air vents at the centre of the dashboard. Other exclusive features include a roll-bar with carbon-fibre outer shell and a specific new generation audio system that can be combined with the removable customised Ferrari iPod Touch 16 GB.
The new car is 80 kg lighter than the 'original' F430 Spider. Combining this with the 510 hp provided by its V8 engine and a power-to-weight ratio of 2.6 kg/hp, it will deliverer a 0-100 km/h acceleration in just 3.7 seconds and a top speed of 315 km/h.