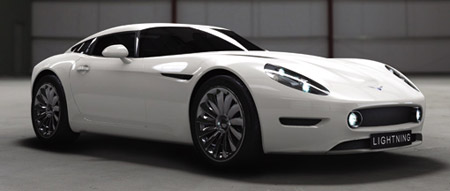 Since we've last reported about the Lightning GT EV in june 2007, a lot has changed for the UK-based manufacturer. The car has been completely redesigned and will be presented at the London Motor Show on the 23rd of July. The Lightning GT EV will be the first big competitor of the Tesla Roadster in the electrical sportscar market. The Lightning GT EV is powered by an nano titanate battery and delivers a total of 700hp. The huge number of horses are available at any given moment and developed in each of the wheels individually.
The Ligthning GT EV will be able to do the 0-100 sprint in 4 seconds and top out at a respectable 130 mph. With a charged battery the range of the Lightning GT is about 250 miles.
The Tesla Roadster set the tone for sporty electrical cars, this Lightning GT has a chance to take it to the next level. Hopefully more manufacturers will take a shot at developing electrical sportscars in the near feature.