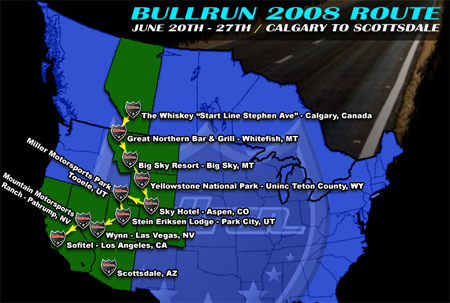 Today the Bullrun teams are leaving the Sofitel in Los Angeles and headed for Tuscon, Arizona. The first stop for breakfast and fresh routecards is at West Coast Customs. Last night the Bullrunners arrived at the Sofitel after a stop at the Spring Mountain Motorsports Ranch in Nevada. Most of them still hungover from the party at the Moon Club in Las Vegas the night before, it was on to the next party, this time at Studio 944.

Ashley van Dyke told us she had a great first day behind the wheel. "I was 5th to the checkpoint at Spring Mt Ranch from leaving the Wynn in Las Vegas. Great day of driving for me…no tickets or pull overs for my team." Sadly this couldn't be said for all the teams. Richard Rawlings broke down again with his Chevy Caprice, this time in the middle of Dead Valley! Again the fuel pump caused the problem. Luckily the Team Wu Hummer, that broke down at Miller Motorsports Park, was fixed and together with Team Streetfire in the Cobra they stayed back to help Rawlings. Sadly no luck this year for Bullrun-veteran Rawlings, but he's not giving up yet. After being towed back to civilization, the car was transferred onto a flatbed and brought to West Coast Customs, where they hopefully have a good fuel pump in stock.
Good news for the Team Angry Ferrari F430. Their car was fixed at the Wynn Ferrari dealership and they can continue on this years Bullrun after breaking down at Miller Motorsports Park two days ago. Team Jeep SRT8 with Cardomain blogger John Coyle onboard missed a turn on the way to the Spring Mountain Motorsports Ranch. They lost so much time that by the time they made it to the track the other teams were ready to leave for the final checkpoint of the day in Los Angeles.
Photos Las Vegas – Los Angeles:
Video:
[via Ashley van Dyke & Cardomain]