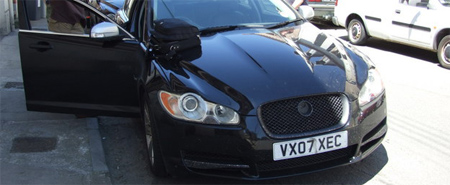 Yesterday GTspirit member Volverine saw three Jaguars pull over in front of his house. Turns out it were no ordinary Jaguars but the 2009 Jaguar XKR and 2009 Jaguar XFR models.
2009 Jaguar XKR
The 2009 Jaguar XKR facelift has an updated front grill, now pointing up with the tips. Most important update to the car are it's improved brakes:
XKR Portfolio's Alcon R Performance braking system is the result of close collaboration between leading brake manufacturer Alcon and Jaguar's engineers who together carried out extensive testing at Jaguar's specialist engineering center, based at the Nurburgring in Germany. Boasting the largest brake discs ever fitted to a production Jaguar – with 400mm front brake discs and powerful six-piston callipers, while at the rear four-piston callipers operate on 350mm discs – the XKR Portfolio's brakes produce fade-free performance time and time again whilst maintaining Jaguar's renowned blend of refinement and stopping power.
2009 Jaguar XFR
The 2009 Jaguar XFR comes with Jaguar's supercharged 5.0-liter V8 that produces a good 500 horsepower. Updates to the looks of the car are limited to an all-black front grill, 20 inch wheels and a lower ride height due to sportier suspension.